In August 2017, with the help of Burak and Resul from Haydimaldivlere team, we had an all-inclusive honeymoon holiday in Centara Ras Fushi in a villa over the water, with 5 night accommodation.
First of all, let me tell you why you should choose HaydiMaldivlere while making your organization and about my experience in the Maldives afterwards.
Why you should choose Haydi Maldivlere?
- They give you such a large hotel portfolio that you can definitely find a hotel that suits your budget.
- If you have any questions about Maldives or hotels, rooms, you can call and ask any question you want, and they are always with you without getting tired of it.
- The prices they offer aren't shown as "without the X tax" like they are on many websites, the package prices directly shown including VAT.
- If you wish, they can help you with the flights.
- Most importantly, they are absolutely reliable.
Now let's get to our organization and holiday experience ...
After about a month of research for the honeymoon organization, we decided to go to the Maldives with my wife. In this process, we compared a lot of hotels from different holiday sites. If I were not a hypercritical person, I probably would not have noticed the additional expenses such as Maldives environmental tax, transfer fee to the hotel… written in small fonts next to the room prices of the hotels on these sites.
After removing the hotels that I liked both in terms of price and room, I started to send mail to these hotels about their room conditions. Although we sent e-mails to many hotels to get information about their rooms, we received many irrelevant, sloppy returns. Often these are in the form of redirects to hotel websites and can get more confusing.
Then one day I found haydimaldivlere and at that moment things started to get easier ...
I sent the list of hotels I liked and they gave me information very quickly about all hotels, room types, packages and price. They also gave us advice on how to get there, how we can buy our plane tickets, how it can be more convenient and more comfortable. Likewise, for many hotels, the prices written in small print on both the hotels' own websites and travel websites were much more affordable than the total prices.
Our journey started after we found our hotel and bought our plane ticket on Mr. Burak's advice.
Considering the price performance, we chose a connecting flight from Emirates (with a waiting time of 3.5 hours) to Dubai. We had our worst experience on this holiday with my wife on the way, at the airport in Dubai, which the nation rhapsodizes over. I don't know how true the rumour that says "Emirates keeps the intervals between flights long to force transfer passengers to buy something" is true, but those waiting hours between flights have caused quite a swelling at the airport. It's an overcrowded and terribly noisy airport, such that you don't even find a seat, so you have to wander around while waiting for your transit flight and the prices of the products are not very affordable. That's why I want to forget this part and skip to the part of our arrival in Maldives :)
When you arrive at the Maldives, you will be welcomed there; They accompany you (depending on the distance of the hotel) to the speed boat or seaplane. Since our hotel was twenty minutes by boat, they took us by boat. Since you have to transfer from the airport to the hotel with one of the two options I mentioned, the transfer fees are a bit high. It starts from $ 100 per person and can rise up to $ 300 depending on how far the hotel is. Fortunately, we did not have to worry about this as Haydimaldivlere sent us an offer including transfer fees while we were buying our ticket.
After the transfer to the hotel, it was an "unexplainable and livable" holiday. When entering the hotel, they give you information about the hotel, activities, extras, prohibitions (for example, smoking is forbidden in places without an ashtray, of course, we tried once or twice as a Turk, and got caught by the staff :)). Afterwards, a friend leaves you in your room by a golf cart on a wooden boardwalk.
The enchantment that begins after you arrive on the island, reaches to the top when you get to the room. Especially if the room you stay is the overwater bungalow and a bottle of champagne welcomes you in the room :) Having a private balcony/platform for you to sunbathe and a ladder where you can go directly to the sea are among the advantages of overwater bungalows. Benefitting from this advantage as soon as we entered the room; we went down to the sea with our champagne :) The stress and fatigue of that whole journey disappears when you swim in the turquoise blue sea, which we see in those pictures and call it photoshopped.The water is so clear that you can even see the corals, fish and sand on the ground. Although it is located in the ocean, there are not such big waves (although it is a bit unsettling that there are tsunami gathering points in some places on the island, but do not worry, since the altitude is already 15 meters, those gathering points may not be very important in a probable tsunami :))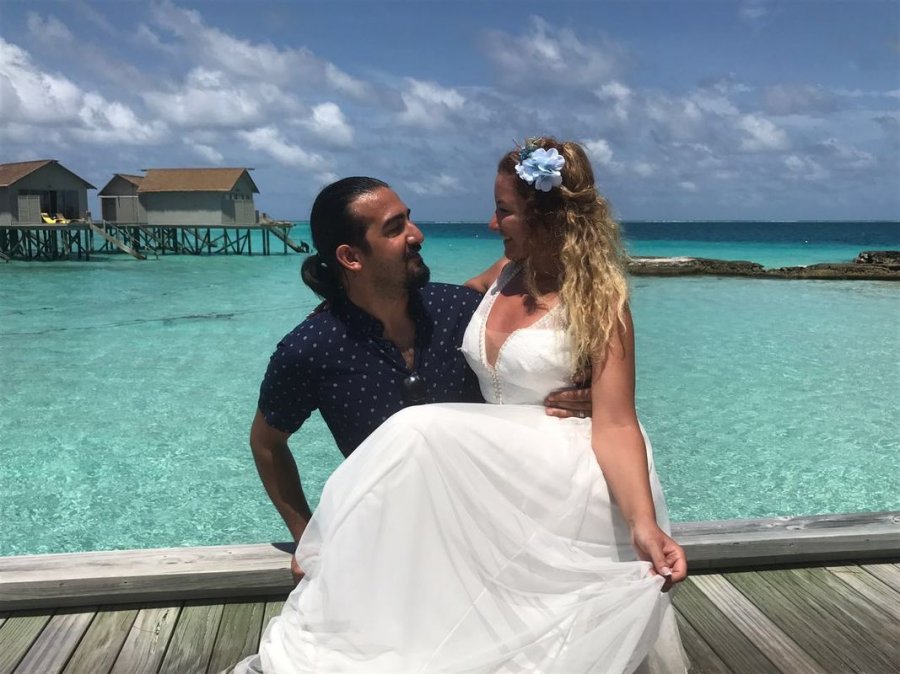 The island we were in was a small island that could be walked in about 20 minutes from one end to the other. Many rooms in the Maldives are of this size, so hotels often rented the islands and therefore there is only one hotel business on an island. This was the case on the island where we stayed. As such, we explored the island to learn more about it on the first day, so our first day took a short time to discover the island.
While the first day passed like that, we started to get hungry towards the end of the day. Let me talk about food as I'm hungry. On the island where we stayed, the hotel had a common, an Arab, an Italian and a Thai restaurant. The common restaurant is the restaurant where everyone comes and eats without reservation. During our stay, we generally preferred this restaurant because it is possible to eat local food with more local sauces.
You can go to Italian and Thai restaurants by reservation; those restaurants can be extra costly when you order something other than optional fixed menus when you go. Since the pizza you eat in the Italian restaurant has no difference than the one you get from Little Ceasers; I did not want to pay extra for a meal, the common restaurant called ocean restaurant was more reasonable. So I didn't even try a dinner at Thai resturant to avoid worse. The menu in the Arab restaurant were all Turkish so we didn't visit it either.By the way, I should mention that the food is very spicy in the common restaurant and in all Maldives. Since I like spices and trying different and authentic dishes, I did not have any trouble, but my wife usually left half of her plate. So don't say spice is not a problem for me, and be sure to carry small snacks in your bag.
After the food I better talk about submarine, snorkel and flippers. As I mentioned before, you can see sharks on the boardwalk during shark feeding sessions because the sea is absolutely clear. Even better, I recommend you to swim with the snorkel and experience the excitement of being directly facing sharks. Sure, they're not jaws, they're up to an arm's length, but it's still exciting to be facing such a predator. As I said to a couple we met there, 'Shark is a shark' :)
Snorkel's only advantage is of course not watching their heads. When you go further and dive a little in the sea, you can easily see all the corals, dozens of fish and small sea creatures. The water is so clear that the first 3-5 meters are constantly in front of you like a mirror. Make sure you take your snorkel with you or get it free of charge as soon as you arrive at the hotel. Since the snorkel you will get from the hotel is a bit more primitive, my advice is to go by taking it beforehand.
Let me talk about the nights now that I'm done with the Snorkeli. What you call nightlife is to listen to live music at the pub our hotel, to drink something with your friends there, to lie on the net on the balcony of the bar, which is built on the same logic as the bungalows on the water and watch the sky. If you are someone who is into nightlife, you may not like it but as you'll have more fun at your wedding a restful night life with a restful will give you much more peace.
Of course, you do not want this wonderful holiday to come to an end, but like every beautiful thing, it comes to and end and you find yourself saddened. And at the end, you are returning from this beautiful island saying I wish it didn't end.
I hope it has been a useful article for everyone, Maldives Honeymoon reviews are the ones looked up the most. We went, we tested, Haydi Maldivlere everyone :)
Author: Serdar AK
You can visit our content to take a look at honeymoon hotels in Maldives.